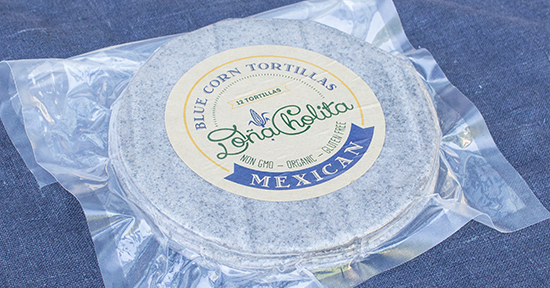 Dona Cholita – Blue Corn Tortillas
We make our tortillas with organic, non-gmo, nixtamalized maize flour and filtered water. That's it. Nothing added, no preservatives or flavour enhancers, no artificial anything. They are naturally gluten free, and a great alternative to bread. Tacos are so in right now, an awesome gluten free alternative to the classic Aussie burger, try it out, you'll be pleasantly surprised. Honest, they go with just about anything.
All tortillas are NOT created equal. We bake our tortillas with nixtamalized maize flour, the process of nixtamalization activates the maize, which breaks down enzymes making it easier for your body to digest and access the nutrients in the corn (our tortilla recipe explained here). Most commercial tortillas are usually made with dried corn/maize and have so many nasty additives, they lack the additional nutritional benefits of our tortillas.
Tortillas in México are a staple, served soft and warm with every meal. The average Mexican eats 8 tortillas a day! We're not reinventing the wheel here, tortillas have been eaten in México for thousands of years. We are simply bringing you a real tortilla.
Once you try our tortillas you'll never go back! We challenge you to taste the difference.
$7.50 200g
Currently Unavailable
Currently Unavailable