To minimise food waste, our seconds grade produce (of which there's very little), goes to our staff as a sweet "work perk".. But for the rest of the organic scraps – greens trimmings and bruised fruit and veg – we have a very cute arrangement!…
Eky started breeding Nigerian dwarf goats for her fifth child who ails from severe eczema after birth when she moved to her farm late 2020. Using the colostrum as well as milk for her son has saved tonnes of cries and sleepless nights.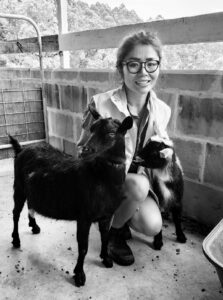 Since then, Eky has been keeping up with a programme raising higher percentage Nigerian Dwarfs on her farm in Brierfield NSW.
The goats have been enjoying sumptuous scraps each week courtesy of Bello Food Box. They get visibly excited when they see the white boxes arrive, and then tuck in to the cauliflower leaves, marked tomatoes, bruised pears and lettuce leaves.
But goats aren't the only lucky animals on the farm. There are Southdown Babydoll sheep, guinea fowls, chickens, dogs and cats that enjoy hanging out and helping themselves to the scraps too!
About Nigerian Goats In Australia
The Nigerian Dwarf goat is a miniature breed of dairy goat originating in West Africa and developed in the United States. The first breed genetics were imported to Australia in 2013. 
Dwarf goats are characteristically a high milk producing miniature dairy breed at around 1.8 litres per day. Their milk has a higher butterfat content than milk from full-sized dairy goats, averaging 6.5% according to the American Dairy Goat Association. Later in lactation, butterfat can go up to 10% or even higher. This makes the Dwarf goat milk excellent for cheese and soap making. 
Interested In A Pet Goat?
Easy to train, this, along with their small size and colourful appearance also makes them popular as pets.
You can contact Eky if you are interested in a pet goat!
Owner/breeder: Eky McRae
Contact number: 0428890910
Stud name:Catan Farm
Stud Prefix: Catan
PIC: NI489738
Location: Brierfield/Bellingen NSW
Member of: MGBA / AABMGS / NDGSA