Organic Meat
We are proud to stock only the cleanest, tastiest, Organic meat from local family owned and operated farms. The animals are farmed ethically and sustainably, using regenerative farming methods that improve the health of the soil and plant diversity. Plus, it really doesn't get much more local than this: The Chicken is from The Patch Organics and Beef from Bello Beef of Levenvale Farm in Bellingen. The proof is in the taste & outstanding quality.

About delivery:
Meat is kept frozen in our temperature-controlled freezer right up until our delivery van departs our depot. At that point the meat is transferred to a cold box within our refrigerated van and packed in ice, right up until the point we reach your delivery, when our driver bags your order, keeping it separate from the rest of your order. We do everything we can to maintain integrity of the cold-chain to your door, but cannot take responsibility for the temperature once it reaches your doorstep. We recommend you are home to receive our delivery if you are ordering meat products. Our delivery notification and tracking system will help with this.
Organic Meat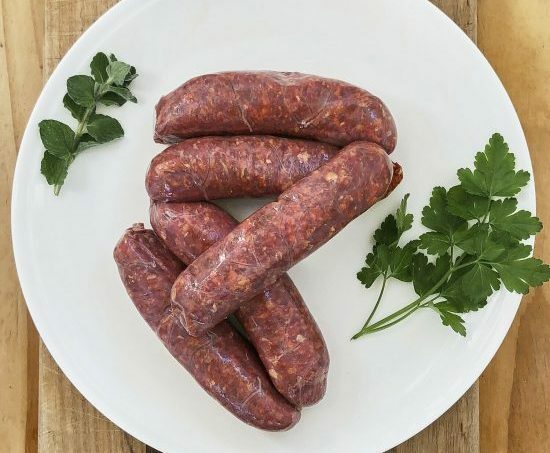 If there is one culinary nation that knows how to do a beef sausage....its defo Argentina!  This is hands down our kid's favourite flavour and they eat it often! It's quick, full of goodness and makes for empty plates fast!  Our organic, 100% grass-fed Sausages are packaged in approximately 500g containing and 5-6 thick sausages. All our sausages are made with only real & whole food ingredients. Gluten Free, Dairy Free, Preservative Free
Ingredients: Organic Grass-fed Beef, Sea Salt, Coriander, Garlic, Parsley, Oregano, Olive Oil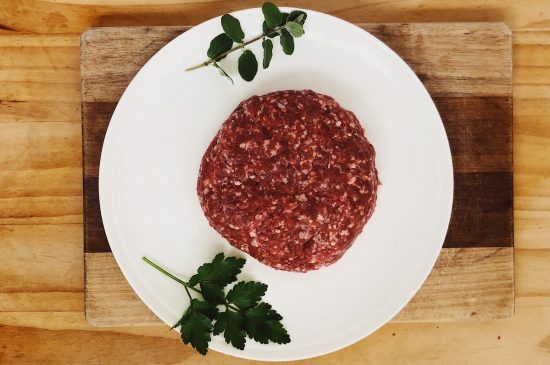 Organic, 100% grass-fed mince comes packaged in approx 500g portions. Take your favourite mince recipes to another level with Bello Beef mince. This premium mince has a rich and full meaty flavour that all our customers notice as being "different & so much nicer" than normal mince.  We know this is because our cattle are eating a diversity of nutritious plants. You are what you eat right!? Try some in your next Bolognese or Tacos.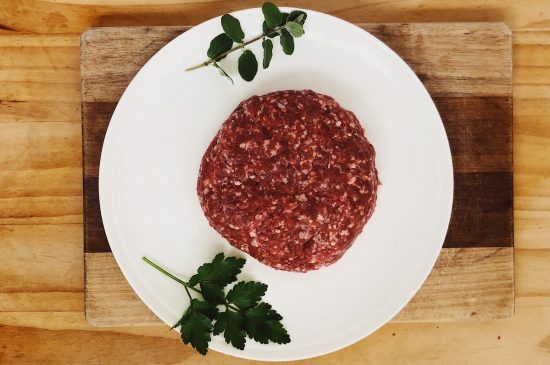 Organic, 100% grass-fed Heart Mince comes packaged in 400g portions.
Heart mince contains approximately 20% heart from the animal and 80% premium mince. This addition of the heart gives a fuller, meatier flavour with the added boost of nutrients you get by eating organ meats: especially rich in B-vitamins such as B12 and folate, also in minerals including iron, magnesium, selenium and zinc, and important fat-soluble vitamins like A, D, E and K.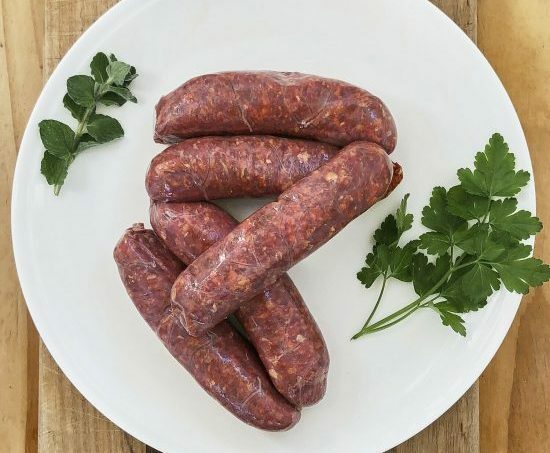 Our friend Luigi shared his Grandmother's recipe and the result is this - Bello Beef's most popular sausage!
All our sausages are made with only real & whole food ingredients. Gluten Free, Dairy Free, Preservative Free Ingredients: Organic Grass-fed beef, Capsicum, Sea Salt, Paprika, Fennel Seeds.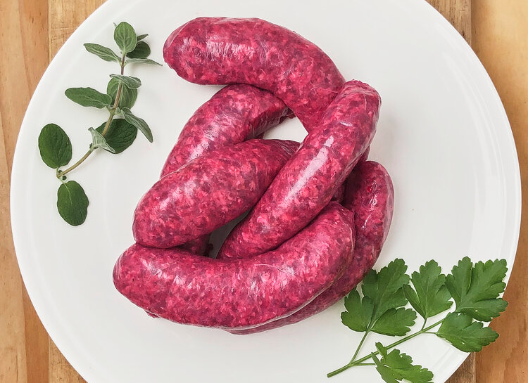 Get a meal in a sausage! These bright red sausages are full of good - Bello Beef's organic, 100% grass-fed beef, with the kidneys from the same animal, roasted beetroot, a little honey & spices to make create the flavour explosion.  Gluten Free, Dairy Free, Preservative Free
Ingredients: Organic Grass-fed Beef & Beef Kidney, Sea Salt, Beetroot, Honey, Garlic, Sumac, Coriander, Pepper, Cumin, Citric Acid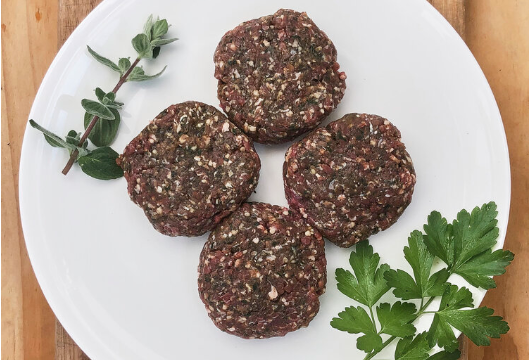 These patties are almost green because of the mint & parsley we have packed into them - creating a flavour explosion. Try the Bello Beef Greek, smothered in tzatziki with olives, tomato & cucumber- YUM.
Organic, 100% grass-fed Patties come packaged with 6 patties, weighing 500-600g. Made with only real & whole food ingredients.  Gluten Free, Dairy Free, Preservative Free
Ingredients: Organic, Grass-fed Beef, Sea Salt, Mint, Parsley & Oregano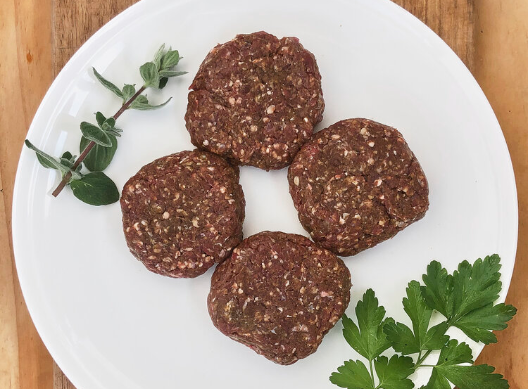 These patties are flavoured with fresh coriander, thyme, cumin & sumac.  Bello Beef's organic, 100% grass-fed Patties come packaged with 6 patties, weighing approximately 500-600g.  Made with only real & whole food ingredients.  Gluten Free, Dairy Free, Preservative Free
Ingredients: Organic, Grass-fed Beef, Sea Salt, Cumin, Coriander, Sumac & Thyme