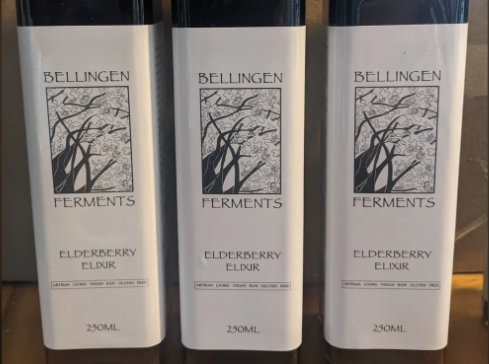 Bellingen Ferments – Elderberry Elixir – (Best Before __)
Elderberry Elixir is a fermented Immune Boosting product specifically designed for Health, Wellness, and Vitality by harnessing the amazing health qualities of Elderberries. Studies have shown the Elderberry to be effective in relieving the symptoms of cold and flu. The Phytochemicals they contain can stop Influenza from infecting cells and inhibit later stages of propagation by blocking key viral proteins responsible for attachment and entry.
Elderberries can also stimulate cells to release Cytokines to coordinate a more efficient Immune response. This Elixir is made using our own amazing Flame Tonic and carefully blended with fresh and dried Organic Elderberries, complimentary herbs and spices, powerful Manuka Honey, and Activated water. Based on traditional herbal remedies and handmade in the Bellingen Valley. A delicious and nutritious daily Immune Boost.
How to use: take 5-15ml 1-2 times daily. Increase with onset of cold/flu symptoms.  we recommend use straight form the fridge you can also use to flavour homemade cordials, icy-poles, or level up home made juices.
Comes in a glass jar.
250ml
Currently Unavailable
Currently Unavailable