Peace, Love & Vegetables - Byron Bay NSW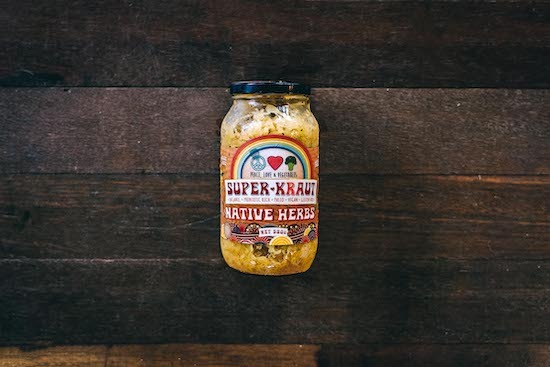 An instant classic! This country fresh Superkraut invites your taste buds to the natural flavours and perfumed aromatics of fresh Beetroot & Herbs. Fully-flavored and divinely yummy, no fridge is complete without this soul-satisfying masterpiece. Good to know it is incredibly healthy for you and has Peace, Love & vegetable stamp of approval, these guys even play music to there ferments, wow. Ingredients: Cabbage*, Filtered Water, Carrot*, Beetroot*, Salt, L-plantarum Culture Starter, Garlic*, Basil*, Rosemary*, Thyme*, Oregano*. (*Denotes ORGANIC)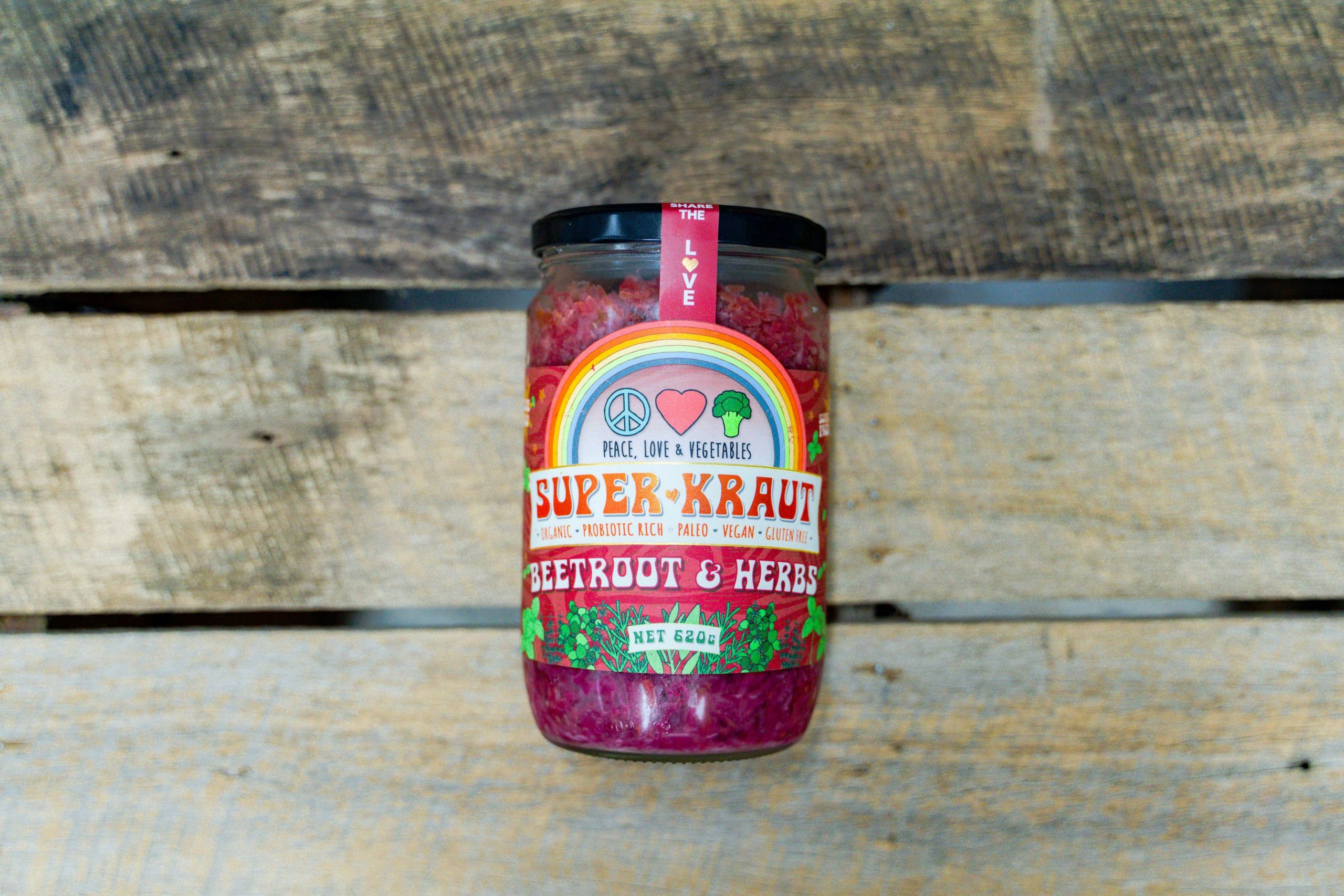 An instant classic! This country fresh Superkraut invites your taste buds to the natural flavours and perfumed aromatics of fresh Beetroot & Herbs. Fully-flavored and divinely yummy, no fridge is complete without this soul-satisfying masterpiece. Good to know it is incredibly healthy for you and has Peace, Love & vegetable stamp of approval, these guys even play music to there ferments, wow. Ingredients: Cabbage*, Filtered Water, Carrot*, Beetroot*, Salt, L-plantarum Culture Starter, Garlic*, Basil*, Rosemary*, Thyme*, Oregano*. (*Denotes ORGANIC)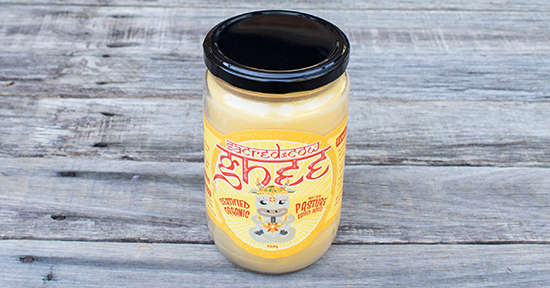 This unique high quality ghee is made from 100% organic grass fed butter that is high in omega 3's, which contributes to the unique creamy texture that people love. Ghee is predominantly saturated fat with a high smoke point of 252 degrees that resists rancidity, making it the perfect cooking oil! GHEE IS A NUTRITIONAL GOLDMINE:
Predominantly saturated fat (The good fats)
High in Omega 3 & 9 essential fatty acids
Provides Vitamin A, E, D & K
High natural source of Conjugated Linoleic Acid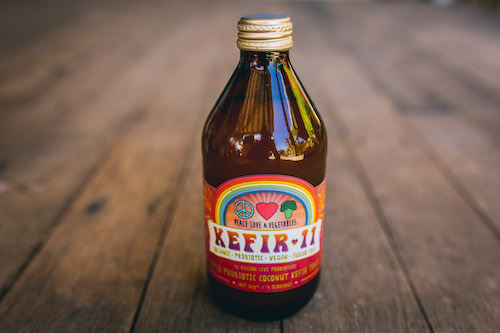 Kefir is a traditional fermented beverage that has been consumed for centuries due to its unique health-enhancing properties. Kefir is a unique ferment where the beneficial bacteria & active yeast exist in symbiosis. We recommend a 30ml dose to begin with.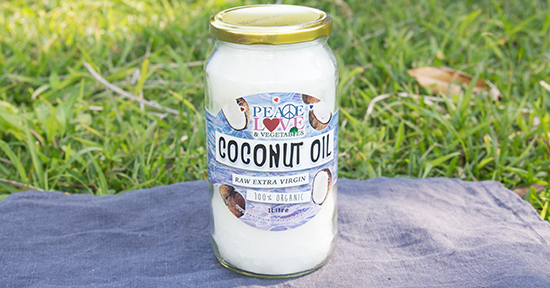 Raw Organic Extra Virgin Coconut oil is such a versatile product and a must have for every household. It holds incredible health benefits such as improving the immune system, prevents candida, regulates digestion and metabolism and acts as a natural antioxidant due to the to the presence of lauric acid, capric acid and caprylic acid. Not only can you use this for cooking, it has been shown to significantly improve the health of hair when applied as a hair treatment and treat skin conditions such as psorasis and eczema due to its natural antifungal and antibacterial properties.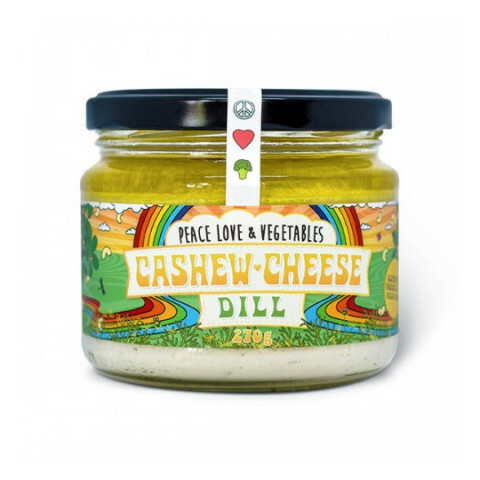 Cashew dill cheese is the perfect alternative to dairy cheese. It's creamy texture and aromatic dill taste offers a superior fermented cheese that is also brimming with health properties. Cashews are a wonderful source of healthy fats and antioxidants and a good source of calcium and magnesium. Cashews can assist heart disease and cardiovascular disease, they can strengthen bones and help nourish connecting nerves and muscles. Cashews contain zero cholesterol, can help prevent cancer cells from multiplying, improve cognitive ability and lower blood sugar levels. Dill is a powerful herb that helps to prevent free radicles and carcinogens in the body. It is also anti bacterial and a good source of iron, calcium and magnesium.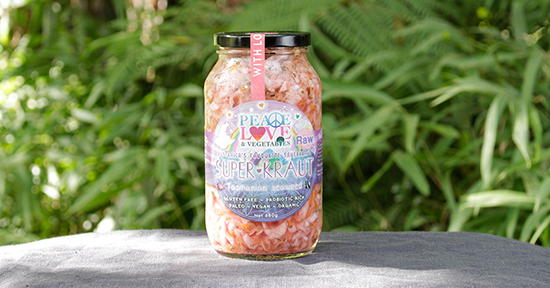 Utilizing the power and nutrients from the ocean, this Sea Kraut is a delicious mix of cabbage, carrots and ginger with the addition of Australian Wakame.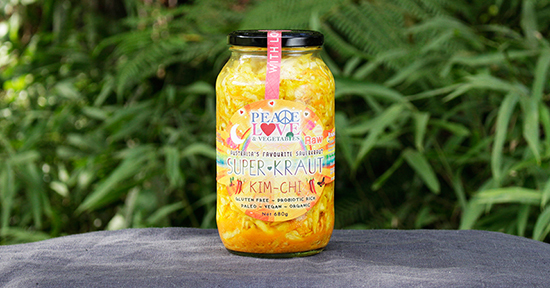 Kimchi is a vibrant and tantalizing mix of flavors that will get your taste buds dancing and your digestive system smiling!