Tangelo Upside Down Cake
Serves: 8   *   Prep time: 20 mins   *   Cook Time: 1 hr
For the Caramel:

3/4 cup sugar

1/2 cup water

1 tablespoon butter

pinch of salt

For the Cake:

3-4 tangelos, Peeled and sliced in 1/4 inch rounds

1 cup sugar

100g unsalted butter

tangelo zest,  from 2 tangelos

1 teaspoon p[ure almond extract

1 cup all-purpose flour

1 cup almond flour, ground almond meal

1 tablespoon baking powder

1/2 teaspoon salt

6 large eggs

For the Almond Topping:

1 teaspoon Ground Cinnamon

1 tablespoons sugar

2/3 cup sliced almonds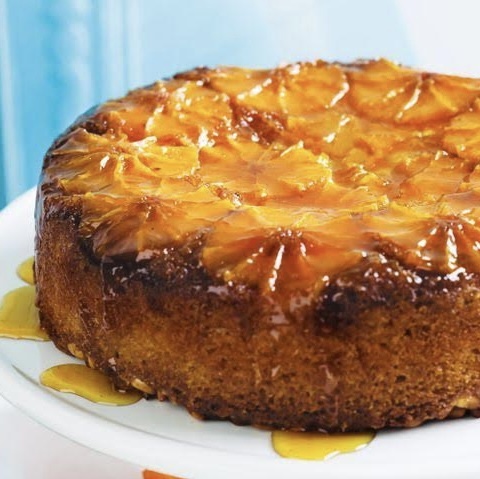 Step 1
Preheat the oven to 180 degrees. Grease a 20cm cake tin, line with parchment paper, and grease the paper; set aside.
Step 2
Place the sugar and water for the caramel in a small saucepan, and bring to a simmer over medium heat. Continue to cook for about 10-15 minutes, swirling the pan, until the caramel reaches a golden colour. Add in the butter and salt and swirl until melted.
Step 3
Pour the caramel into the cake pan, and place enough tangelo slices in the bottom of the pan to cover.
Step 4
In the bowl of an electric mixer, cream together the sugar, butter, zest, and almond extract for 5 minutes. Add in the flours, baking powder, and salt, and mix on low. Add in the eggs, and mix until just combined. Spread the batter over the tangelos and caramel.
Step 5
In a small bowl, mix together the cinnamon, sugar, and almonds. Sprinkle over the batter. Cover the cake with a round of parchment paper and bake for 45 minutes. Remove the parchment paper cover and bake for an additional 15 minutes, until cooked through.
Step 6
Allow the cake to cool for 5-10 minutes, then invert onto a platter.
Featured products