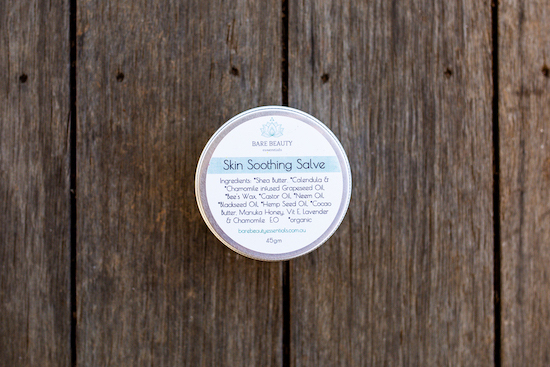 Bare Beauty – Skin Soothing Salve
Locally handmade in Middle Boambee!
This  Skin Soothing salve may relieve the symptoms of skin irritations. The neem, hemp and lavender oils work to calm the itch and redness and the bees wax acts as a barrier and locks in moisture.
It is definitely something everyone should have in their first aid kit!
Ingredients: *Shea Butter, *Calendula & Chamomile infused grapeseed Oil, *bees Wax, *Castor Oil, *Neem Oil, *Blackseed oil, *Hemp Seed oil, *Cocoa Butter, Manuka Honey, Vit E, Lavender & Chamomile essential oils * organic
$13.95 each
Currently Unavailable
Currently Unavailable