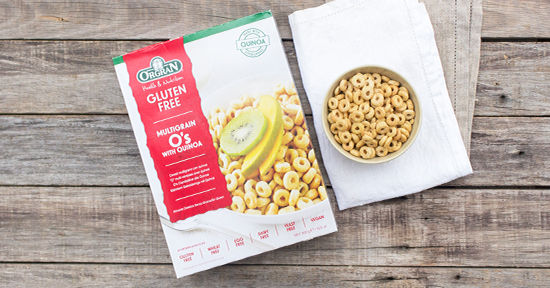 Multigrain O's w/ Quinoa
ORGRAN Multigrain O's with Quinoa are made with 77% wholegrains and 14% protein rich legumes.Our Multigrain O's with Quinoa are packed with essential nutrients and dietary fibre to provide energy for the entire day.
Dairy Free, Gluten Free, GMO Free, Egg Free, Vegan.
Brown Rice (67%), Yellow Pea (14%),Quinoa Flour (9.5%), Brown Rice Syrup, Dextrose from Maize, Psyllium , Pear Juice Concentrate, Calcium Carbonate (1%), Emulsifier: Monoglycerides from Vegetable, Natural Vanilla Flavour, Iodised Salt, Tumeric.
300g
Currently Unavailable
Currently Unavailable