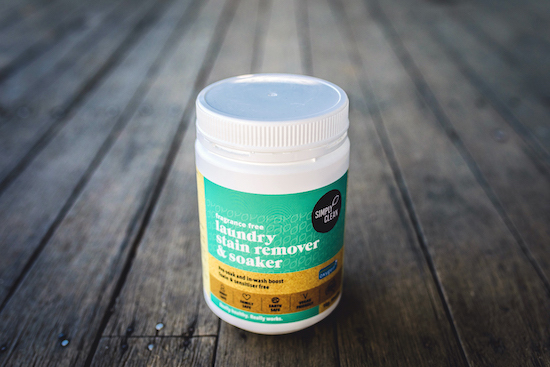 Simply Clean – Laundry Stain Remover & Soaker – 1kg
This Fragrance Free Laundry Stain Remover doesn't have unnecessary fillers and is so pure that a little goes a long way. That's good for the environment and good for your pocket.
We use only the best and essential ingredients to produce the clean clothes you expect.  
Toxin free: Protecting your family's health

Sensitiser free: Kind to sensitive & easily irritated skin

Fragrance free and enzyme free

Developed for pre-soak and in-wash for front and top loaders

Performs in cold and hot water; supercharged at 50°C

Grey water and septic safe

Family safe and earth safe

No animal testing or animal products

Palm oil free
* Subject to colour fastness of fabric. Check care label. Not suitable for some delicate fabrics e.g. silk, satin, chiffon, wool, leather and embroidery. Not suitable as a soak for metal parts.
INGREDIENTS:
Sodium percarbonate (oxy-action sanitiser and stain remover), sodium carbonate (washing soda for cleaning), polyalkylene oxide and alkylbenzenesulphonic acid/sodium salt (biodegradable surfactants), sodium metasilicate (mineral based corrosion inhibitor to protect metal trims and washing machine), pentasodium triphosphate (water softener).
$11.95 1kg
Currently Unavailable
Currently Unavailable