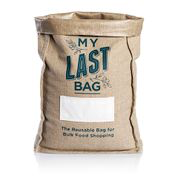 Bulk Food Bag – Small
The Reusable Bag for Bulk Food Shopping
Our SMALL SIZE bag comfortably holds 6 cups of dry goods from the bulk food store. This bag is ideal for one person, couples and small families. Perfect for flours, rice, sugars, lentils, dried beans, quinoa, oats and other grains. If you have a larger family then our LARGE bag may suit you better.
The Small Bag is also great as a snack bag ~ Good for Chocolates, nuts etc and even doubles up perfectly as a pastry bag at your local bakery.
Most families will use 3 to 6 bags when bulk food shopping, so we suggest you purchase a minimum of 3 bags to really get the hang of replacing disposable paper and plastic bags. A mix of some large bags and small bags is a good way to start as most people will buy more of some produce like flour and rice and less of other produce like nuts and dried fruit. Once you have your Bulk Food Bags sorted, remember to add 1 or 2 veggie bags these transform the way you carry veggies home and store them whilst helping to reduce food waste as well as unnecessary plastic waste.
Hemp Fabric
Our Hemp fabric is Unbleached and Undyed. Variations in the colour and weave of the fabric may be present. This is the nature of Unbleached Undyed sustainable fabrics. Please note this is not a fault in the product, but rather a beautiful display of what happens naturally. We personally love the variations that Natural Hemp fabric has and feel it adds to the beauty of our product.
How to take care of your Bulk Food Bag
Simply turn bag inside out and wipe clean with a cold damp cloth
The bag shouldn't need washing too often, but when needed only wash by hand with cold water and drip dry
Treat me with love
each
Currently Unavailable
Currently Unavailable