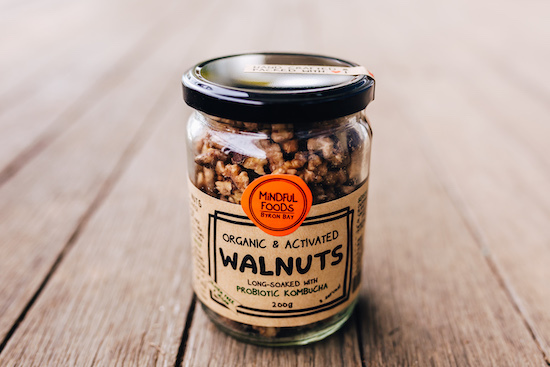 Activated Walnuts – 225g
Phwoah!
These unsalted nuts are incredibly light & crunchy, soo easy to digest, and a fantastic addition to any salad or snack sesh.
We've soaked them in our home-made Kombucha and little bit of Australian Rock Salt, then slowly dried them below 70 degrees Celcius in our solar powered dehydrators, so as to bring you the most delicious, nutritious, clean food possible!
We, like you, love the earth, so have offered you these nuts in reusable glass jars, that so also lock in the nuts crunchy freshness.
SO many ways to reuse your jar –
* Store your bath salt in them, add our Chillax Brew and your favourite essential oils for an ultra relaxing blend.
* Keep home made chocolates in them (although if you're anything like us.. you'll probably need a few of these jars for that…!)
Ladies and gents, we hope you go as NUTS for these nuts as we are… nuts.. yep. Totally nuts.
Thanks for checking us out, we love what we do, and love sharing it with you
INGREDIENTS:
ACTIVATED WALNUTS*= CERTIFIED ORGANIC.  MAY CONTAIN TRACES OF OTHER NUTS.
$16.95 225g
Currently Unavailable
Currently Unavailable