Bellingen Ferments, Bellingen NSW
The vitamins and minerals found in seaweeds are essential to the health of various body systems. Iodine and tyrosine are necessary for healthy thyroid function, Vitamins A, C, and E as well as Flavonoids and Carotenoids act as strong protective Antioxidants. Fiber and polysaccharides help support and nourish the bacterial colonies and lining of your gut. Ingredients: Green Cabbage, Organic Celitic Sea Salt, Organic Wakame, Organic Kombu, Organic Tsumomata, Organic black pepper. Comes in a glass jar.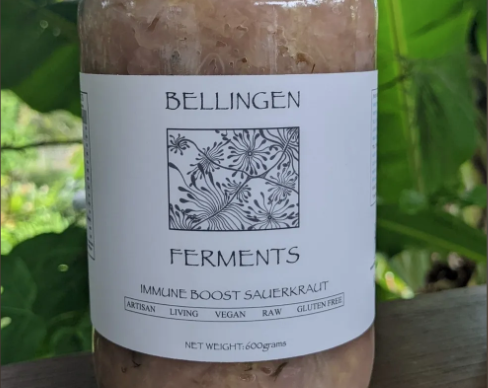 A robust and healthy immune system is linked to the health of our gut flora. Sauerkraut is rich in a large variety of probiotics with the fermentation process increasing the bioavailability of the nutrients. A few forkfuls of properly fermented kraut can equal a whole bottle of high potency probiotics and contain high levels of Anthocyanins. Ingredients: Green Cabbage, Organic Celtic Sea Salt, OrgRed Cabbage, Organic Blue Butterfly flowers, Organic Ginger, Organic Garlic, Organic Black Pepper. Comes in a glass jar.