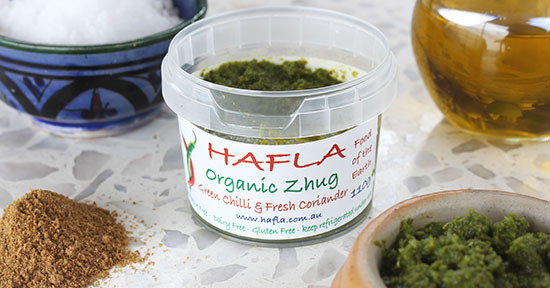 Zhug
Absolutely beautiful – we always have it on the dinner table for all occasions! The cheekiest of all dips, is made with fresh coriander, green chilli, cold press (virgin) olive oil, garlic and spices.
It is fantastically flavoursome and yet will not burn your taste buds, however it is recommended for adults only.
Zhug has its origin in Yamane and has travelled the world around to arrive at your plate – for all we know in Australia it is only available through Hafla dips.
It is made and sold fresh and like all our dips, once opened, better consumed within a week.
Some coloring of the virgin olive oil may occur, in which case there will be some brown stains on the surface, however this by no means reduces the quality, or alters the taste of the dip.
$7.95 110g
Currently Unavailable
Currently Unavailable