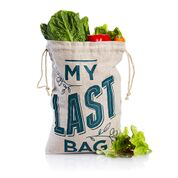 Veggie Bag
The Veggie Bag ~ Keep Foods Fresh
My Last Bag's Veggie Bag is the perfect Reusable Produce bag and thanks to the amazing properties of Hemp fabric also doubles up to keep your veggies crisp and fresh for longer!
Did you know that plastic bags don't allow your fruit and veggies to breathe, therefore your veggies will go off quicker and lose their flavour. Hemp is a natural sustainable and breathable fiber with antibacterial properties and is perfect for storing your veggies.
To make your Zero Waste shopping experience complete we suggest grabbing 1 or 2 Veggie Bags, 2 Small Bulk Food Bags and 1 Large Bulk Food Bag. This is a great way to start Reducing Your Waste by replacing disposable plastic and paper bags.
The Veggie Bag reduces food waste as well as plastic and paper waste!
Save waste ~ be an Eco warrior!
Tare weight is printed on the bag for easy checkout
Made from Unbleached Undyed Hemp
$20.50 each
Currently Unavailable
Currently Unavailable