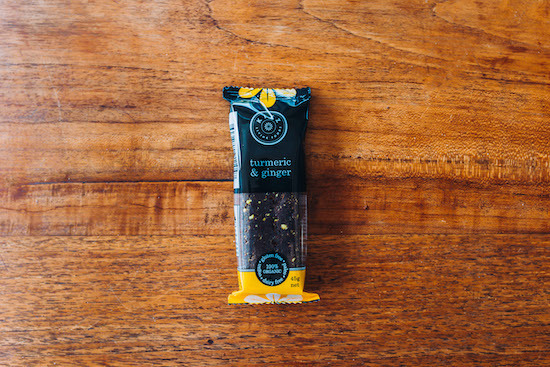 Kitz – Turmeric & Ginger Bar
Boost your body with our Turmeric & Ginger bar. The curcumin found naturally in turmeric is believed to have amazing anti-inflammatory and powerful antioxidant properties. The health benefits from this combination are endless. There is no tastier way to get your daily dose.
RAW. VEGAN. Paleo friendly. Seed and salt-free.
Contains tree nuts. Made in a facility that handles tree nuts, sesame and soy. Free from wheat, gluten, dairy products, peanuts, eggs, yeast, fish, shellfish and cane sugar.  Contains nuts.
Ingredients: Dates*, coconut*, cashews*, cacao powder*, cinnamon*, turmeric*(0.4%), ginger*(0.2%), pepper*, coconut oil* 
*Certified organic ingredient
$3.95 45g
Currently Unavailable
Currently Unavailable