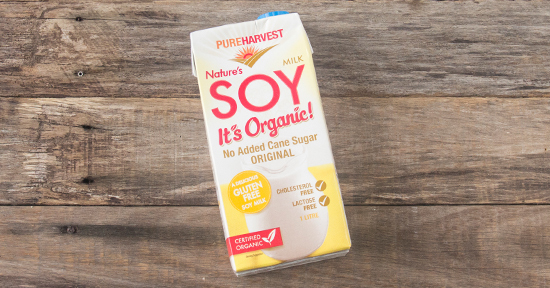 Soy – Original
Made with whole soya beans and not protein isolates. As an isolate is not a whole food, we refuse to use it. Instead, we derive the goodness which goes into our soy milk from the whole bean.
At Pureharvest we pride ourselves on using only natural ingredients, free from artificial additives and pesticides. Organic Nature's Soy Milk is ideal for people with gluten or dairy intolerances – use it on breakfast cereal, in cooking and as an alternative to dairy milk. All our products are carrageenan free.
ORGANIC

GLUTEN FREE

VEGAN

GMO FREE

NO CANE SUGAR

NO ARTIFICIAL COLOURS OR FLAVOURS
Ingredients: Filtered Water, Organic Whole soya Beans (13%), Organic Rice Syrup, Organic Hi Oleic Sunflower Oil, Sea Salt
.
$3.95 1 Litre
Currently Unavailable
Currently Unavailable