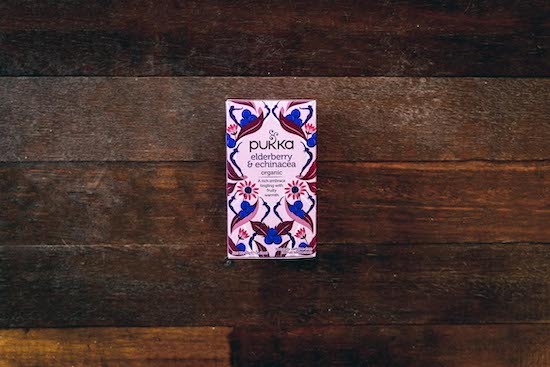 Pukka – Elderberry & Echinacea
Sanctuary is expecting you. Let yourself fall into a deep bed of ripe wild fruits: purple-black elderberries, inky blackcurrants – blessed by the fragrant FairWild elderflower and touched by the tingling notes of echinacea. Safe in your fruity refuge, you'll be ready for anything. Stay warm and well.
Naturally caffeine free and ethically sourced, 100% organically grown ingredients
Ingredients: Licorice Root*, Ginger Root*, Echinacea Root and Leaf* (10%), Beetroot*, Aniseed*, Elderflower* (8%), Peppermint Leaf*, Orange Peel*, Elderberry* (6%), Rosehip*, Acerola Juice Flavour*, Orange Essential Oil Flavour*, Natural Blackcurrant Flavour. *Organic Ingredients (99.9%) contains non-organic Lecithin.
$7.95 20 x teabags
Currently Unavailable
Currently Unavailable