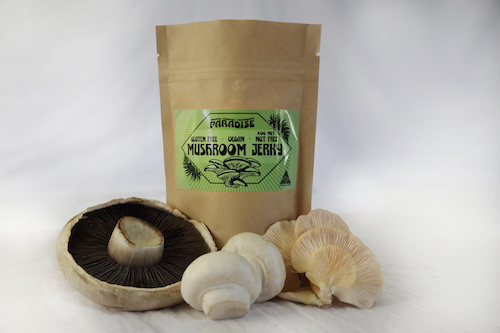 Mushroom Jerky
Paradise Mushroom Jerky is a delicious take-anywhere mushroom snack made in the Nambucca Valley.
It's Vegan and Gluten-Free so everyone can enjoy! It has a chewy, meaty texture with a complex but moreish flavour.
You're first hit with the earthy, umami goodness of fresh locally-grown mushrooms. The savoury Tamari and vegetables breakthrough before a tasty caramel sweetness and, finally, you're left with a tingling medium heat from ground paprika and chilli flakes. Combined with the intense mushroom aroma of white truffle-infused olive oil and fresh garlic, our Paradise Jerky is irresistible – you won't be able to stop yourself.
Pairs well with a nice craft beer.
100% biodegradableand compostable packaging. (Paper bag with PLA lining made from plants not oil)
Ingredients: Mushrooms, brown sugar, tamari, vegan vegetable stock, garlic, truffle oil, chilli flakes, chilli powder.
$8.95 each
Currently Unavailable
Currently Unavailable