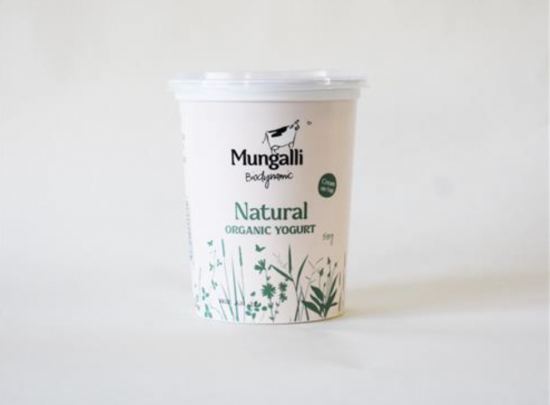 Mungalli Creek – Yoghurt – Natural 500g
Mungalli Creek's Natural Yoghurt is created using traditional farmhouse methods in their modern production facility on the farm. Their products embrace purity and simplicity, omitting the use of additives such as emulsifiers, gelatines or colourants. The bio-dynamic farming techniques used enhance the soil health and life, creating highly nutritious products with real flavour.
Mungalli Creek Farm is in a high rainfall area and the soils are predominantly derived from rich volcanic basalt which grows high quality pastures for the cows to graze on. The summer pastures are predominantly tropical grasses (seteria and brachiaria) and legume (pinto peanut) and rye grass and clover in Winter. Due to the predominance of Jersey cows in the herd, the milk is rich and creamy ideal for making yoghurts and cheeses.
This product is certified bio-dynamic by Demeter.
Ingredients
Unhomogenised Bio-dynamic Whole Milk, Organic Milk Solids, Live Yoghurt Cultures L Acidophilus, Bifidobacterum.
$7.00 500g
Currently Unavailable
Currently Unavailable