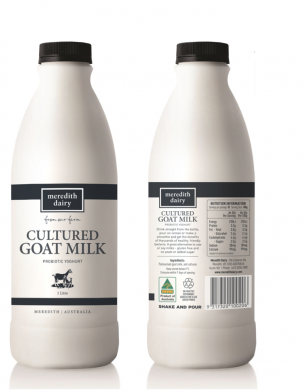 Milk – Goat's Cultured – Meredith – 1L
With tens of billions of probiotics per serve, Meredith Dairy's Cultured Goat Milk can be enjoyed by itself,
in a smoothie, as a marinade or as a delicate base for dips.
Clean flavour with naural acidity
Always made with less than one-day-old milk.
Billions of beneficial bacteria.
No added sugar, no stabilisers, no thickeners, no emulsifiers.
Gluten free, yeast free.
Maintains gastrointestinal health and beneficial microflora.
Contributes to immune function.
Ingredients: Pasteurised goat milk, and cultures.
Product of: Australia.
$10.15 1 Litre
Currently Unavailable
Currently Unavailable