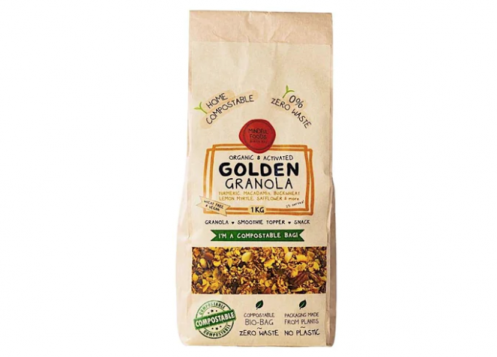 Mindful – Golden Granola Muesli
Artisan Granola made in Byron Bay
ORGANIC | ACTIVATED | VEGAN | GLUTEN FREE
We believe your body knows best!
With the right conditions, it will rebuild & restore itself to find its natural balance. This blend has been crafted to help your body do just that. Each chai-spiced, myrtle-infused mouthful is packed with phytonutrients that act as potent natural anti-oxidants & anti-inflammatories, Empowering your body's own detox pathways.We have included healthy fats, carbs & protein for long-lasting energy, and fibre to fuel your tummy's ecosystem, keep you… Ahem.. Regular.
In order to make these nutrients as available & digestible as possible, we soak our nuts & seeds in a cultured & PH controlled solution in order to 'activate' dormant nutrients.
Serving suggestions: Straight out of the jar into your mouth! | In a bowl with milk | Sprinkled on top of yoghurt or a smoothie | In a salad | The crumble on an apple pie… mmm
INGREDIENTS:
ACTIVATED IN KOMBUCHA, FILTERED WATER & ROCK SALT
ACTIVATED NUTS & SEEDS (BUCKWHEAT* SUNFLOWER SEEDS* PEPITAS* ALMONDS^ PECANS^) COCONUT CHIPS^ OATS^
RAW MACADAMIAS^ BROWN RICE MALT SYRUP^ TURMERIC* VANILLA BEAN^ LEMON POWDER^ CLOVE^ LEMON MYRTLE^ SAFFLOWER^ STAR ANISE^ PEPPER^ CONTAINS NUTS ^=CERTIFIED ORGANIC *=AUSTRALIAN INSECTICIDE FREE.  MAY CONTAIN TRACES OF OTHER SEEDS, NUTS AND SHELL
1kg
Currently Unavailable
Currently Unavailable