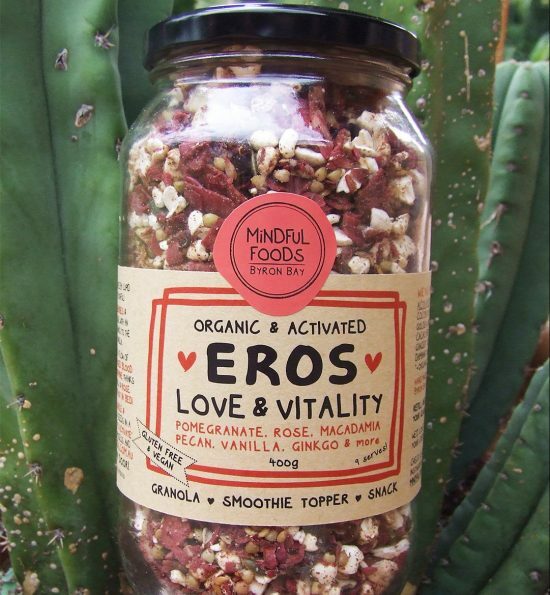 Mindful – Eros 'Love & Vitality' Cereal
Artisan Granola made in Byron Bay
ORGANIC | ACTIVATED | VEGAN | GLUTEN FREE
Amore…
This blend was carefully crafted by cupid!
Feel the love flow from the very first mouthful!
Eros is a light, fruity blend with cranberries & pomegranate to tickle the tip of your tongue, with an undertone of smooth white chocolate, thanks to the creaminess of cacao butter & velvetty vanilla.
The union of pomegranate & ginger encourage a flow of love-promoting hormones, while the increased blood flow stimulated by ginkgo, an increase in dopamine thanks to maca root & the sensuality of damiana, vanilla & rose, make this a blend suitable.. & ideal… For breakfast in bed!
In order to make these nutrients as available & digestible as possible, we soak our nuts & seeds in a cultured & PH controlled solution in order to 'activate' dormant nutrients.
Order online for delivery to your door!
Serving suggestions: Straight out of the jar into your mouth! | In a bowl with milk | Sprinkled on top of yoghurt or a smoothie
INGREDIENTS:
ACTIVATED IN KOMBUCHA, FILTERED WATER & ROCK SALT
ACTIVATED NUTS & SEEDS (BUCKWHEAT* PEPITAS* PECANS^) COCONUT CHIPS^ CACAO BUTTER^  BROWN RICE MALT SYRUP^ GOLDEN LINSEED^ CRANBERRIES^ (SWEETENED WITH APPLE JUICE^) RAW MACADAMIAS^ PUFFED BUCKWHEAT^ BEETROOT^  GINGER^ CINNAMON^ MACA* MESQUITE* POMEGRANATE^  ROSE PETALS^ DAMIANA^ VANILLA BEAN^ CONTAINS NUTS
;^=CERTIFIED ORGANIC *=AUSTRALIAN INSECTICIDE FREE ; MAY CONTAIN TRACES OF OTHER SEEDS, NUTS AND SHELL
400g
Currently Unavailable
Currently Unavailable