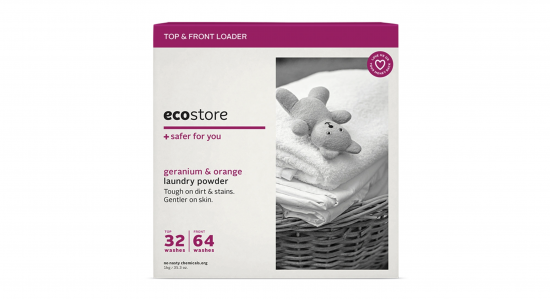 Ecostore – Laundry Powder – Geranium Orange – 1kg
ecostore Geranium & Orange Plant and Mineral Based Laundry Powder
ecostore's laundry powder has been formulated to be kind to your skin and the environment and also is very effective. It's an excellent laundry powder that is based on plants and minerals. ecostore don't use any harsh ingredients, optical whiteners, phosphates or artificial fragrances.
ecostore powders have been independently benchmarked against the market leader to ensure excellent results and they really do deliver.
Each box delivers 32 washes for a top loader and 64 washes for a front loader and is 1kg in size.  In a cardboard box with a recyclable scoop made out of sugar cane plastic.
Essential oil based fragrances are compliant to International Fragrance Association Standards.
Made in New Zealand.
Ingredients: Sodium Carbonate, Sodium Citrate, Sodium Sulphate, Sodium Coco-Sulphate, Sodium Bicarbonate, Sodium Silicoaluminate, Lauryl Glucoside, Sodium Silicate, Helianthus Annuus (Sunflower) Seed Oil, Cellulose Gum, Sodium Polyaspartate, Parfum
$10.25 1kg
Currently Unavailable
Currently Unavailable