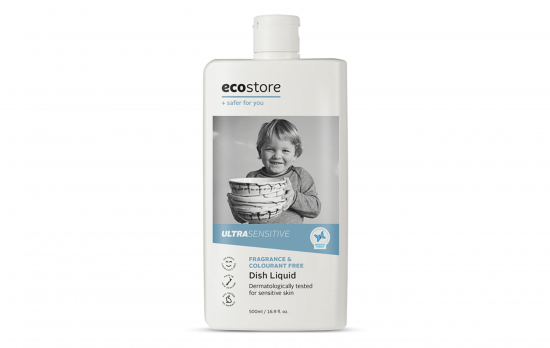 Ecostore – Dishwashing liquid – Ultra Sensitive 1L
Powerful formulation for sparkling clean dishes, while being kinder to your skin and to our environment. We use sustainably sourced ingredients wherever possible. Ecostore's plant-based dish liquid is pH balanced which means it is kinder to your skin and suitable for those with sensitive skin or allergies.
Performance: This dish liquid has been independently benchmarked against the market leader to ensure excellent results.
Renewable Sugarcane Plastic: Ecostore dish liquid 500ml and 1L bottles are made from renewable sugarcane plastic, which is 100% recyclable and helps to reduce your carbon footprint.
Environment: Ecostore dish liquid has been approved by eco label Environmental Choice NZ (Hand Dishwashing Detergents. Licence no: 0111101). This is your guarantee that we are committed to environmental leadership and that these products are less harmful to the environment. Waste water from your kitchen sink is classed as 'black water' which is unsuitable for re-use on gardens and lawns due to possible contamination from food prep and waste. By using a more natural dish cleaner you can reduce the amount of toxic chemicals that go into your septic tank or local water treatment system.
Manufacturing: Ecostore dish liquid is Kosher (pareve) certified  and made in NZ to the strictest environmental standards in our ISO14001, Enviromark Diamond and CarboNZero certified factory.
Ingredients
Aqua (Water), Lauryl Glucoside, Sodium Coco-Sulphate, Caprylyl/Capryl Glucoside, Lauramine Oxide (Plant-Based Surfactants), Parfum (Essential Oil Fragrance), Benzyl Alcohol, Dehydroacetic Acid (Preservatives), Citric Acid (Plant-based Acid), Ammonium Chloride (Ammonium Salt), Limonene.
$9.00 1L
Currently Unavailable
Currently Unavailable