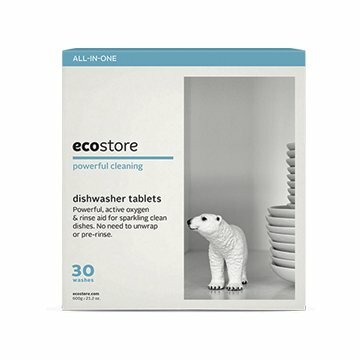 Ecostore – Dishwasher Tablets 30s
Ecostore Fragrance Free Dishwasher Tablets are no-mess, all-in-one tablets with built-in rinse aid, and are designed to leave your dishes beautifully clean. Containing biodegradable enzymes and effective cleaning ingredients derived from plants and minerals, they are formulated to provide powerful stain removal while preventing spots, streaking and limescale build-up in your dishwasher.
Suitable for all dishwashing machines, including dish drawers, each tablet is individually wrapped in a PVA biodegradable wrapper that dissolves during the wash, and the tablets have been independently tested against the market leader to ensure excellent results*. They have also been approved by the European Union Ecolabel (License no: Dk/15/1) for reducing environmental impact from raw material extraction right through to production, distribution and disposal.
Ingredients: Fatty Alcohol Alkoxylate, Glycerin, Sodium Bicarbonate, Sodium Carbonate, Sodium Carbonate Peroxide, Sodium Citrate, Sodium Polyaspartate, Sorbitol, Tetraacetyl Ethalinediamine, Trisodium Dicarboxymethyl Alaninate, Amylase, Sodium Silicate, Subtilisin, Tetrasodium Iminodisuccinate, Modified Fatty Alcohol Polyglycol Ether, Brassica Napus (Rapeseed) Seed Oil
$15.50 600g
Currently Unavailable
Currently Unavailable