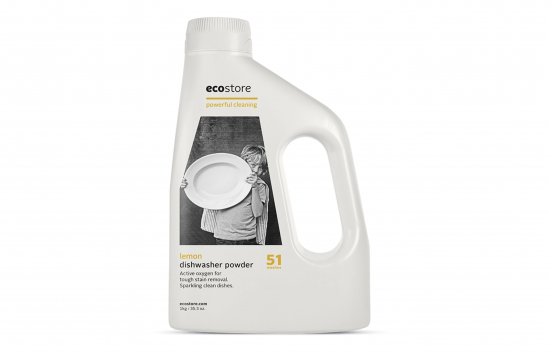 Ecostore – Dishwasher Powder – Lemon
Our dish products are safe for the whole family to use, yet tough on food and grease, rinsing away with no residue. We've harnessed the power of special biodegradable enzymes to ensure the most effective clean.  Powerfully tough on grease and stains, for sparkling clean dishes. Using just a small amount of readily biodegradable enzymes means you get brilliantly clean dishes with fewer chemicals and no nasty residues.
– Powerful cleaning with plant-active enzymes
– Made from plant and mineral-based ingredients
– Subtle lemon fragrance
– Made in New Zealand in a CarboNZero certified factory
Regular load – 15ml, large load/hard water – 30ml. Always follow manufacturer's instructions. For extra sparkling dishes, use ecostore Rinse Aid. Not suitable for silver, aluminium, antique or painted porcelain, ivory and bone, we recommend hand washing with ecostore Dish Liquid instead.
Our bottles contain a mix of sugar plastic (a renewable, recyclable plastic that captures CO2 as it grows) and locally sourced recycled plastic.
Ingredients
Amylase, PPG-4 Laureth-5, Parfum (Essential Oil Fragrance), Sodium Bicarbonate, Sodium Carbonate, Sodium Carbonate Peroxide, Sodium Citrate, Sodium Metasilicate, Sodium Sulphate, Subtilisin, Citrus Aurantium Dulcis (Orange) Peel Extract, Limonene
$10.95 1kg
Currently Unavailable
Currently Unavailable