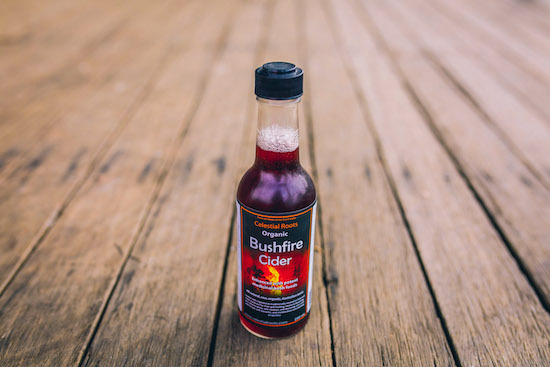 Bush Fire Cider
Bushfire Cider is a unique Australian take on a traditional European preventative and healing tonic. Like a next level fire cider, it draws on the wisdom of not only our own Indigenous healers, but healers and healing traditions from all continents. Bushfire Cider is hand-crafted locally with love by Tom Rothsey, drawing on mentorship from traditional herbalists and healers in Australia, France, Germany, and the UK. Ingredients for the tonic were selected based on Tom's intuition, and knowledge of plant chemistry, function and synergy. This tonic is loaded with ingredients traditionally revered in folk and bush medicine for their gut healing, immune boosting, anti-inflammatory, anti-oxidant, anti-bacterial, anti-viral, anti-fungal, anti-parasitic, and metabolism stimulating properties. Dependent on seasonal availability, every brew has at least 42 biodynamic, organic, or wild crafted ingredients in an organic, live, apple cider vinegar base.
Ingredients: Organic apple cider vinegar, Dorrigo Pepper berry & leaf*, lemon myrtle leaf*, finger lime*, lemon aspen*, native smilax root*, aniseed myrtle*, riberry*, native lemongrass*,native ginger*, cinnamon myrtle, horseradish root & leaf, fermented, turmeric, radish, galangal, fermented radish leaf, ginger, italian garlic, brown onion, red onion, rosemary, celery, carrot, yarrow, coriander leaf, oregano, brown mustard seed, yellow mustard seed, yacon, coriander seed, cumin seed, thyme, black pepper, white pepper, tulsi, Siberian ginseng, burdock root, basil, elderberry, juniper berry, bay leaf, black seed, caraway seed, fenugreek seed.
All ingredients are organic, except those marked with an *, which are wild crafted responsibly & sustainably in accord with celestial roots love & ethics.
I
$29.95 250ml
Currently Unavailable
Currently Unavailable