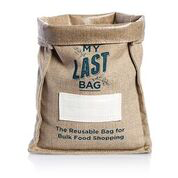 Bulk Food Bag – Large – 1/2 Price clearance sale!
The Reusable Bag for Bulk Food Shopping
Our LARGE SIZE bag comfortably holds 14 cups of dry goods from the bulk food store. This bag is ideal if you like to keep your home well stocked or if you have a large family. If this sounds like too much for you then the small bag will suit you better.
Most families will use 3 to 6 bags when bulk food shopping, so we suggest you purchase a minimum of 3 bags to really get the hang of replacing disposable paper and plastic bags. Once you have your Bulk Food Bags sorted, remember to add 1 or 2 Veggie Bags. these transform the way you carry veggies home and store them whilst helping to reduce food waste as well as unnecessary plastic waste.
each
Currently Unavailable
Currently Unavailable