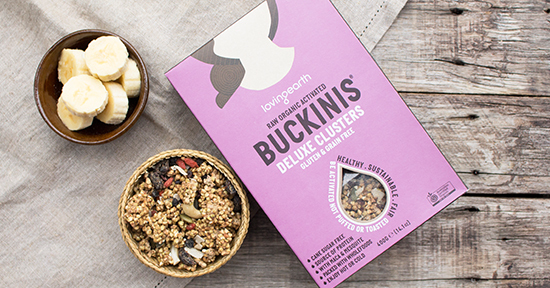 Buckinis – Deluxe Clusters – Good Use By!
Deluxe Buckinis are made from our raw activated buckwheat and are a delicious combination of our Caramelised Buckinis, healthy nuts, berries and superfoods. Ideal for breakfast, sprinkled on smoothies or simply as a superfood trail mix.  || CANE SUGAR FREE || SOURCE OF PROTEIN || WITH MACA & MESQUITE || PACKED WITH WHOLEFOODS || ENJOY HOT OR COLD
INGREDIENTS: Caramelised Buckinis, (Organic Activated Buckwheat, Organic Agave Syrup, Organic Mesquite Powder, Organic Cinnamon, Organic Maca Powder, Pink Lake Salt), Organic Activated Pumpkin Seeds, Organic Activated Cashews, Organic Raw Cacao Nibs, organic currants, organic cranberries (apple juice sweetened, organic sunflower oil <1%), organic caramelised coconut chips (Organic Coconut, Organic Coconut Nectar), Goji Berries
$11.95 400g
Currently Unavailable
ON SPECIAL!
Currently Unavailable