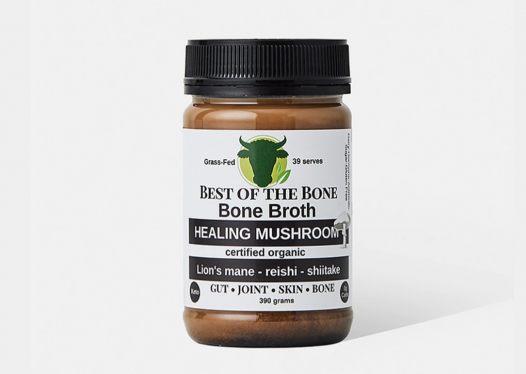 Best of the Bone – Broth – Healing Mushroom – 390g
A cognitive, nootropic, adaptogenic super blend of the best bone broth with certified organic Reishi, Shiitake, Lion's Mane and Chaga mushrooms.
Grass-fed Best of the Bone broth with a healing Mushroom superblend  with certified organic mushrooms (chaga, reishi, lion's mane and shiitake).  Legendary medicinal mushrooms have been added to the collagen-rich Best of the Bone bone broth concentrate to create a unique bone broth flavour (mushrooms, garlic, black pepper) that is a fantastic base for soups or sauces (mmm, the mushroom gravy we made was as good as we've experienced in any restaurant).
Ingredients:  Grass-fed/grass-finished beef bone extract slow-cooked for 48 hours, organic mushroom extract blend (shiitake, reishi, lion's mane, chaga); organic garlic; organic black pepper, spices and sea salt.
$32.95 390g
Currently Unavailable
Currently Unavailable